A couple of years ago, HowToGeek published an article, colorfully entitled, Never Download a Driver-Updating Utility; They're Worse Than Useless.
And ever since, a week rarely goes by when we don't get asked about it.
So we figured it's about time to write an official response. Here goes…
Long story short
Here are the main claims the article made:
Claim
True or False?
Why?
You don't need a tool to update your drivers
TRUE
You can do it yourself if you have the skills, patience and inclination.
Learn more…
Outdated drivers are very unlikely to cause problems
FALSE
Outdated drivers cause all sorts of problems. All IT professionals know this.
Learn more…
Updated drivers usually don't provide new features
FALSE
Driver updates often provide very important new features.
Learn more…
You don't need to update drivers that are included in Windows
FALSE
Hardware manufacturers actually advise you to do it.
Learn more…
Windows Update will always keep your drivers up-to-date
FALSE
Microsoft freely admits Windows Update doesn't always include the latest drivers.
Learn more…
Read on to learn the truth about each of these claims.
CLAIM: You don't need a tool to update your drivers — (Verdict: TRUE but do you want to do it manually?)
The HowToGeek article says:
"you don't need any driver-updating utility"
And this is true.
You definitely don't need a tool to update your drivers. Just as you don't need a washing machine to wash your clothes, a calculator to do your sums or a chef to cook your dinner.
But do you really want to do it yourself? Do you have the time, patience and skills to do it properly?
Obviously the author of the HowToGeek article does. He's the publication's Editor in Chief, he's been writing about tech since 2011, he's written for some of the biggest tech publications going around, and he's somewhat of an expert on open-source operating systems like Linux and Chrome OS. So he really knows his onions and he probably loves to tinker.
But I know I don't. Do you?
I could think of far better, more profitable and less frustrating ways to spend my time than updating my drivers manually.
It takes me ages to figure out what devices my PC has. Brand, model, etc. I never remember where to look.
And after I've finally done that, I have to trawl my PC manufacturer's website looking for the latest drivers for them.
And guess what? Quite often, they're not even supported by my PC manufacturer anymore. So I have to source them from the chipset manufacturer instead.
And when I do finally find the driver I think I need? There's always a voice in the back of my head reminding me of the last time I did this manually and my monitor stopped working altogether. (Turns out, I'd downloaded and installed the wrong driver, even after investing all that time.)
So, sure. It's technically true that it's possible for me to do all of this by myself. But I challenge Chris to poke his head into my office while I'm doing it. It's not just possible he'll learn a few very creative expletives, it's guaranteed!
The fact is, I hate working on computers. I don't know enough about hardware to do it safely and efficiently, nor do I do it often enough to remember where I went and what I did last time.
And above all, I hate spending time on things that can be done automatically.
And before you say it, no, it's not that I'm a dummy. I've been working in and around the IT industry since 1994 – as a technical writer, copywriter, product manager, tester, project manager and UX designer. And still I hate updating drivers manually.
Still not convinced? Then maybe check this instruction for how to update a driver from a Windows Insider MVP and Microsoft forum moderator:
Long story short, updating your drivers manually is a lot more complicated than Chris would have you believe.
By contrast, with Driver Easy Pro you can update ALL your drivers with just a single click.
CLAIM: Outdated drivers are very unlikely to cause problems — (Verdict: FALSE)
The HowToGeek article claims it's "technically true, but very unlikely" that updating your drivers can cause problems, system slowdowns and bluescreen errors.
You don't have to be an IT expert to know this is false.
Outdated and mismatched drivers are one of the most common causes of Windows problems.
That's why Microsoft published this explanation of how to…
"Update a driver for hardware that isn't working properly…"
Why they say:
"If you're still seeing a blue screen error, try rolling back, disabling, or uninstalling the recently installed drivers."
Why they say:
"If you recently installed new drivers, you can rollback, disable, or uninstall them to determine if that's what's causing your issue.
And there's plenty more where that came from. Not just from Microsoft, but from just about any vendor you can poke a stick at. They all know that outdated and mismatched drivers can cause serious problems, and that updating your drivers is one of the first things you should do when you encounter a problem. Usually right after restarting your computer!
Oh, and let's not forget the problems caused by missing drivers. The HowToGeek author conveniently failed to mention this.
Once again, Microsoft makes it very clear what can go wrong if you're missing drivers:
"Without drivers, the devices you connect to your computer—for example, a mouse or external hard drive—won't work properly."
Clearly, outdated, mismatched and missing drivers do cause problems.
Which is why more than 3 million people around the world use Driver Easy!
CLAIM: Updated drivers usually don't provide new features — (Verdict: FALSE)
The HowToGeek article says:
"It's very unlikely any driver will offer new features"
By way of answer, let me show you how some manufacturers describe their driver updates…
Radeon Software Adrenalin 2019 Edition 19.10.2 Highlights:
NVIDIA Gamescom Game Ready Driver: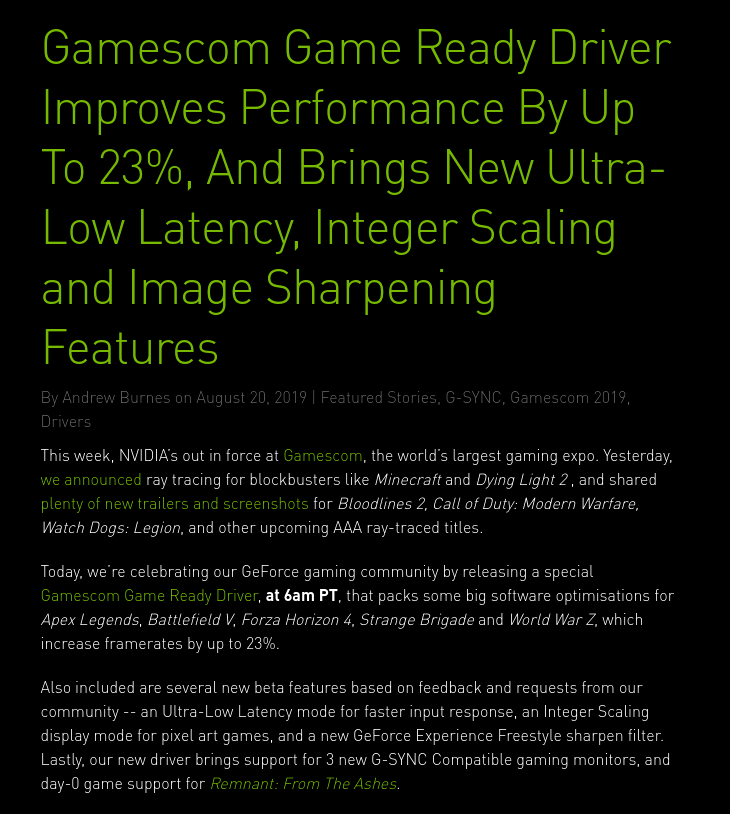 Intel® PROSet/Wireless Software 21.50.1 Release Notes:

Intel® Wireless Bluetooth® 21.50.0 Release Notes:

Clearly some important new features there!
CLAIM: You don't need to update drivers that are included in Windows — (Verdict: FALSE)
In the HowToGeek article, Chris criticises a driver update tool because it recommends he update the driver for his Human Interface Device (HID) compliant mouse. He says:
"This is a standard type of hardware — you should never need to update this basic mouse driver; it's included in Windows."
Again, he's wrong.
Take a look at what Logitech has to say on the matter:

In other words, the tool was probably right to make this recommendation.
CLAIM: Windows Update will always keep your drivers up-to-date — (Verdict: FALSE)
Sure, if you don't like updating drivers manually, you could just wait for the next Windows Update, and hope to get the drivers you need there.
But you know what? That's nowhere near as clean-cut as Chris claims here:
"Driver updates occasionally arrive via Windows Update, so a serious problem will be fixed just by installing your normal updates."
The reality is, Windows Update isn't actually very good at updating drivers. Particularly Windows 10.
It categorizes driver updates as either 'critical', 'automatic' or 'optional', and it doesn't usually concern itself with the 'optional' ones. So long as you have the necessary 'critical' and 'automatic' updates, it's happy. It won't, for example, install a new 'optional' update, if it already has an old 'critical' update installed.
You don't have to take my word for that either. Here's a quote from Microsoft itself:
"Windows ranks critical or automatic drivers highest. If a matching driver is not found, WU looks next for optional drivers. As a result, an older critical driver of otherwise equal rank takes precedence over a newer optional driver."
But all driver updates are important, even when Windows calls them 'optional'. If they weren't, the hardware manufacturers wouldn't go to all the trouble of coding and releasing them, and getting them into a Windows Update (that process is very difficult and time consuming for them).
Sometimes these 'optional' updates include just a new, nice-to-have feature, and you can arguably do without that. But sometimes it's an important bug fix – perhaps the old driver is causing your device to stop working or your computer to crash. Windows often categorizes these updates as 'Critical', but definitely not always.
The other problem is that device manufacturers often take a long time to get their drivers into a Windows Update. It's a time-consuming and difficult process. Sometimes they just miss the deadline and have to wait 'til the next Windows Update, and sometimes they just give up altogether. In fact, for older devices, this is the norm.
(Oh, and let's not forget, sometimes Windows Update simply fails to work. My computer kept telling me for a full year that I had an update available, but every time I tried to install it, it would fail. What drivers were part of that update? I'll never know.)
So, no. I'm not a big fan of waiting for Windows to update my drivers for me. Especially if I have a problem right now!
Plus HowToGeek conveniently overlooked a few things
The other thing that the HowToGeek article overlooked is the fact that some driver update tools do a lot more than just update drivers.
Driver Easy Pro, for instance, offers all of the following additional features:
Auto restore point – Easily restore Windows to exactly how it was before you updated your drivers.
Driver backup & restore – Roll back to an earlier version of a driver with just a few clicks.
Offline update – Can't get online? Just use another PC to download the right network driver, then copy it across. Driver Easy steps you through it.
Scheduled scans – Set and forget. Driver Easy will ensure your drivers are always up to date.
Uninstall drivers for removed devices – Windows loads every driver at startup, even old ones, for devices you no longer use. This can slow your computer down and cause conflicts. With Driver Easy, you can uninstall them.
Get hardware info – Get a quick, easy snapshot of all your computer's internal hardware – RAM, processor, motherboard, video card, network card, motherboard and more…
Would 3 million people use Driver Easy if it were worse than useless?
We've never claimed Driver Easy is perfect. Nor do we claim everyone loves it. But if it were 'worse than useless' there's no way we'd be receiving testimonials like this, day after day, year after year.
Conclusion
HowToGeek chose DriverUpdate.net as an example of a bad driver updater.
I haven't used this tool, so I can't comment on whether their verdict is accurate.
But what I can say is that there are plenty of bad software tools out there. Of every sort. Probably more bad than good, in fact.
But that doesn't mean all driver update tools are bad. I could point to dozens of terrible tech publications too. Does that make HowToGeek bad? No!
There's good and bad in every walk of life.
But what I can say, without any doubt, is that updating your drivers is important. And that doing it manually isn't easy. So driver update tools can definitely play an important role.
Please let us know your thoughts
We'd love to hear your thoughts on this debate. Would you rather update your drivers manually or automatically? Please comment below.